I used to blog a lot about television. I remember when I used to get really excited about a new Doctor Who series coming out (I mean I still do) and would immediately have to tell everyone that reads my blog that they need to watch it when it comes out. I used to write listicles of TV shows I was currently watching. I would gush about Firefly and lament because it got cancelled after only one season (I am still devastated about that).
Television is a passion of mine. As much as I love books, I love watching television on an equal level. I turn into the biggest fangirl when it comes to my favourite tv shows and can spend hours on Tumblr just looking for GIFS/videos/fanart. I did have a page on the blog where I kept track of the shows I'm watching but then I lost track because that's how much tv I watch. ?
But I'm babbling. This post is really about what I'm watching on Netflix at the moment/what I have watched/my favourites. I love that with my mobile phone network I get to watch as much Netflix as I want without worrying about my data running out. So on my way to work if I'm not reading then I'm definitely catching up on the latest episode of something.
Currently Watching
A Korean Odyssey
Ok – I'm pretty sure that everyone and their mother and their dog is aware that I love Korean dramas. It's all I ever tweet about these days and I'm pretty sure my followers are sick and tired of me fangirling, but can't stop, won't stop. I am so glad that they've made some dramas available on Netflix. I usually watch on Viki but not all of the ones on my list are available in my region but are available on Netflix. How do I sit there and watch 1hr20mins episodes? It takes a certain skillset. I've been perfecting it since I was 16 years old when I watched my ever kdrama, Full House. Ask me to sing the Three Bears Song. I dare you.
In 2017, Son Oh-Gong and King Wooma are in conflict with each other as they look for a true light in a dark world where evil thrives. Having made a contract with Seon-mi 25 years ago, entitling her to seek help from Son Oh-Gong whenever she calls him in exchange of letting him free, the two meet again in a fateful encounter. From there, Son Oh-Gong is bound to his protective role towards Seon-mi, the little girl he had met years ago.
The soundtrack to this drama is actually so lit. As soon as I hear the opening chords, ya girl is immediately like ?. It's currently airing, so only 6 episodes have been released but I am loving it, so far. I am a sucker for kdrama cliches. I know y'all are gonna do the piggyback eventually and the wrist grab and the awkward kiss, but I am all. the. way. here. for. it. ??
Riverdale
Based on the characters of the Archie comics, how do I even begin to describe Riverdale?
The series follows Archie Andrews' life in the small town of Riverdale and explores the darkness hidden behind its seemingly perfect image.
I am not going to lie, this latest series is stressing me out and I swear the writer's are playing games but I am obsessed and even if I miss out on an episode for like 3 weeks, I always go back. I need to see where Jughead and Betty aka Bughead are at. I need to see if Archie and Veronica are doing okay. Let me just check if Betty's mum is still doing the most.
I can't remember the last teen drama I watched – I'm thinking probably Gossip Girl – but it sucks you in. Their drama is your drama. Their stress is your stress. Their woes are your woes. This show actually makes me clap my hands in frustration at some of the character's shenanigans.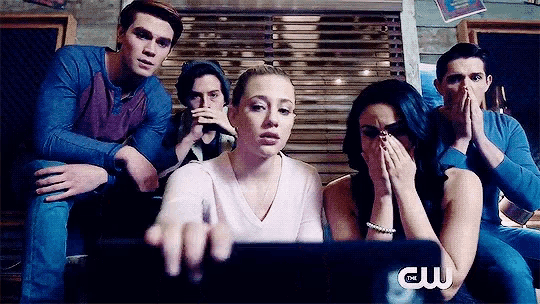 Once Upon A Time

I actually didn't start watching this on Netflix. I used to watch it religiously back when I discovered it in 2013, but then, as usual, I got distracted by other tv shows and the plotline started to get a bit samey. I recently started rewatching it and I have fallen in love with it all over again.
The show follows various fairy-tale characters who were transported to the real world and robbed of their original memories by a powerful curse.
I am a big fan of fairytales and I especially love when they put a twist on the story. In the latest series, Cinderella is Latina! Now that there's been a time jump, it's gotten a lot more interesting and there's more of a focus on Alice from Alice in Wonderland, which I love as that's one of my favourite books.
The Good Place
I think it was Mutay who told me to watch this and when someone suggests a tv show to me, it may take me a while to get round to start it but once I do I binge the eff out of it (examples: Rick and Morty, Arrested Development, It's Always Sunny In Philadelphia, Archer).
The series focuses on Eleanor Shellstrop, a woman who wakes up in the afterlife and is introduced by Michael to "The Good Place", a Heaven-like utopia he designed, in reward for her righteous life. She realizes that she was sent there by mistake and must hide her morally imperfect behavior and try to become a better person.
This show is so funny and my favourite character is definitely Jason. How can a person be so dumb yet endearing at the same time? Also, slightly biased because the actor is Filipino and I'm here rooting for more Filipino actors on tv (see: Grimm). I love the premise of the show as well – it has a nice set up for ideas about morality, personal ethics and loyalty without feeling like you're in a classroom.
Watched
The Crown
Am I allowed to say that I don't care for the monarchy? Will I get done for treason?
J O K I N G.
The Crown traces the life of Queen Elizabeth II from her wedding in 1947 to the present day. The first season depicts events up to 1955, with Claire Foy portraying the Queen in the early part of her reign.
There are only 10 episodes in the first series, so please believe I binged that so quickly. I have yet to watch series 2 but soon come. I like when historical pieces are done in this fashion because it's easier for me to take in rather than sitting around reading a bunch of dusty textbooks or falling asleep to the sound of my history teacher's boring voice.
I like how in depth the series goes in on the royal family, sort of stripping away a mask and showing us that they are human too even if they are royal. Of course, even though you can pretty much get spoilers a click away (I mean it's historical and happened ages ago) there are still a few plot twists that had my heart like, pow.
Big Mouth
A colleague at work mentioned that he saw a father and son watching this show together on the train and I was immediately like ?. At the same time, though, this show is actually a really good way to inform your kids about the ways of life without being too cringe.
The series follows 7th grade best friends Nick Birch and Andrew Glouberman as they navigate their way through puberty, masturbation, and sexual arousal. Acting as sex-based shoulder angels are the hormone monsters Maurice, who pesters Andrew and occasionally Nick and Jay, and Connie, who pesters Jessi and occasionally Missy. Throughout the series, the kids interact with people and objects who are personified in one way or another and offer helpful, albeit confusing, advice in their puberty-filled lives including the ghost of Duke Ellington, a French accented Statue of Liberty, a pillow capable of getting pregnant, and even Jessi's own vagina.
Even reading that synopsis probably has you like, wtf? I'm thinking where was this show when I was younger? It's funny and informative at the same time and I can totally relate to the feelings the kids are having for the first time – like when Jessi gets her period for the first time. My absolute favourite character is Connie, the Hormone Monstress – she is everything I want to be in life and more. She smells so good because "I don't use deodorant and I only take bubble baths." screams
Archer
Once I started this show I couldn't stop and at one point all I was watching was Archer. Even at work, I was watching it (nowadays I'm watching kdramas on my break/lunch).
It follows the exploits of a dysfunctional group of secret agents—Sterling Archer and seven of his colleagues—Malory Archer, Lana Kane, Cheryl Tunt, Pam Poovey, Ray Gillette, Cyril Figgis, and Dr. Algernop Krieger.
This show is beyond ridiculous but so much fun. From Archer always shouting Lana's name to ~danger zone~, there is always some kind of ridiculous shenanigans taking place in each episode. This freaking show has the International Secret Intelligence Service – ISIS. Hollering. Also, Jessica Walter voices Malory Archer and I absolutely loved her in Arrested Development.
Black Mirror
"Charlie Brooker is a genius." I've been saying this at work every time someone mentions Black Mirror. I'll just turn around and scream it in their face.
Black Mirror is a British science fiction anthology television series created by Charlie Brooker, with Brooker and Annabel Jones serving as the programme showrunners. It examines modern society, particularly with regard to the unanticipated consequences of new technologies. Episodes are standalone, usually set in an alternative present or the near future, often with a dark and satirical tone, though some are more experimental and lighter.
I am so glad that Netflix picked up this series because just wow. Literally, every single one of the episodes has me pausing and questioning my existence/life. Brooker skilfully brings to light how much technology can affect society, especially in the episode Nosedive where people are ranked on a five-star scale. Your ranking can severely affect your standing in society – it reminds me of Instagram and likes. I think what hits home with Black Mirror is how close we are to becoming that reality in some of the episodes. Y'all need to stop playing games with technology before it comes and kills you. ?
Favourite episode of series 4 (latest series): Black Museum. HANDS. DOWN. DON'T @ ME.
Favourites
Rick and Morty
Do I like this show because I am an intellectual? Do I like this show because it's parody of Back to the Future? Do I like this show because I am trash?
I will never know.
THIS. SHOW. THOUGH.
The series follows the misadventures of cynical mad scientist Rick Sanchez and his fretful, easily influenced grandson Morty Smith, who split their time between domestic life and interdimensional adventures.
Created by Dan Harmon, creator of Community (another favourite tv show. I'm still annoyed they removed it off Netflix) and Justin Roiland, this show is deliciously creative, funny and clever. I am a sucker for science fiction, and this show feeds my love. I love going on Reddit and reading fan theories (I once stayed up until 2 am just reading these) about the show because there's always something in each episode that makes you question something that happened previously. It's crazy.
I have no idea when series 4 will be aired. Mr Poopybutthole told us we would have to wait a long time and this makes me sad. I guess the only thing that can be done is rewatch all of the series again and again.
It's Always Sunny In Philadelphia
From the very first episode, I was hooked. I remember laughing so hard I actually couldn't breathe. If you're a sensitive person, I wouldn't suggest watching this show because it's so non-pc, it's hilarious.
The series follows the exploits of "The Gang", a group of debauched, self-centered friends who run the Irish bar Paddy's Pub in South Philadelphia.
The Gang are a group of idiots that I have come to dearly love with all my heart. Charlie is my favourite character (there's a recurring theme here of me loving dumb but endearing characters), but all of them are equally hilarious. Danny DeVito joining the cast was actually a really good move, because he is so funny and brings even more weirdness to the cast.
I'm just going to leave this video of The Nightman Cometh right here. (I am actually cracking up again watching it right now, I can't breathe). FiGhtER oF tHE NiGht MaN AAAaAaaaAAAa.
Special mentions
Grimm – If you like fantasy, Grimms' Fairy Tales and police procedural dramas then you need to watch this show. Now.
Brooklyn Nine-Nine – TERRY LOVES YOGHURT. I actually have a huge crush on Andy Samberg. Bloody hell.
Arrested Development – You know when the Duke of Weselton does the chicken dance in Frozen and Ana and Hans sing about finishing each other's sandwiches? THOSE ARE REFERENCES FROM THIS SHOW. You need to watch it, now. Honestly.
I hope you've found some new shows to add to your list! What are you watching on Netflix?